Student Leaders

Local Market Edge works with area Colleges and Universities to recruit motivated, bright, and competent students to work within our Student LEADership program.   Our carefully chosen Student Leaders are learning about business and marketing in the real world, having fun, and paying their way through school while generating leads for your company.
Feet On The Street
Our Student Leaders are always out canvassing neighborhoods, knocking on doors, and talking with homeowners.  Their goal is to help you find more opportunities by introducing your company and services to the homeowners they meet.  
While talking with homeowners, Student Leaders determine their needs.  If your company can fill that need, they gather a basic description of the job and…
GOOD:  leave information about your company with the homeowner
BETTER:  get contact information and basic job details and pass the lead to you
BEST:  get basic job details and set an appointment for you to meet with the homeowner
Featured Clients
 While out and about, Student Leaders look for opportunities for all of our clients.  However, each time a Student Leader goes out canvassing, they are focused on a specific client.  That 'featured client' gets their doorhangers placed on every home a student visits and is the company used to begin the Student Leader's introduction process.
If the featured client does not fit the needs of the homeowner, the Student Leader will introduce them to the company we work with that fits their needs.

Socialization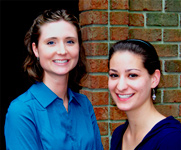 Not all of our Student Leaders are the door knocking type.  Some of them are tech savvy web gurus, some write, and some design.  They generate buzz about you and your company on the Internet, driving prospects to your website, where we capture their contact information.
If you are looking for a professional lead, web marketing, or referral generation company in Richmond then please call 804-608-9655 or complete our online request form.